Chef, European BBQ Champion & Event Chef Thomas Ellwanger is also a fan of our sauces

Quote: "Without flavor enhancers and thickeners, Cox BBQ sauces taste natural and especially intense. Like a good home-cooked barbecue sauce. Since they are vegan you can use them flexibly for meatless dishes."

Thomas Ellwanger was named one of Austria's top 50 chefs. He is on the road throughout Europe as an event chef and with his pop up restaurant concept INN:TIROL.
If you want to learn more about Thomas, just visit his website or let yourself be spoiled with culinary delights at one of his events!

Here are links to Thomas on the web:
Thomas' Website
Thomas auf Instagram
Tauernkönigin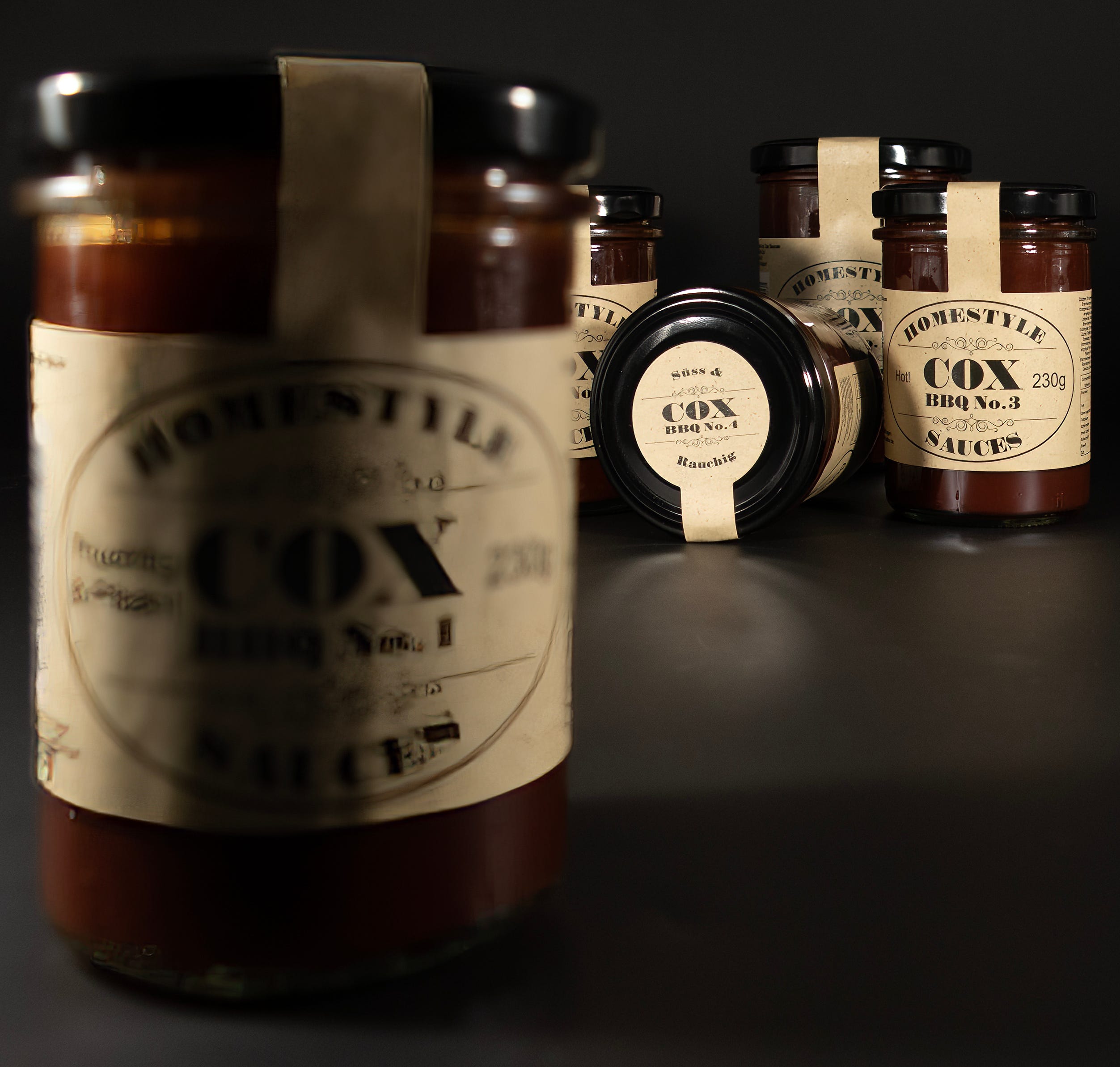 COX BBQ & Pizza Sauces
Don't settle for bland, boring barbecue!
Our delicious and versatile sauces are the perfect addition to any barbecue, whether you're grilling meats, cheeses or vegetables.

Try them today and taste the difference for yourself!
We are pleased to present our homemade Barbecue & Pizza sauces!
Our goal is to provide the most delicious & highest quality sauces that have ever landed on your plate.
To do this, we eliminate everything you don't need.
All ingredients are natural, vegan and free of gluten,
flavor enhancers, preservatives and genetically modified foods.
In the production we pay attention to sustainability and avoid plastic as far as possible.


Dominik Ortloff from Wonfurt
When counter-tested, my previous favorite barbecue sauce totally lost, kudos!
Michael Ott from Kirchenlamitz
The best Sauces ever!
Karin Stock from Radfeld (Austria)
Not only super delicious to eat by themselves, these sauces belong in every gift basket with all the other exquisite delicacies!
Carsten Klick from Berlin
The sauces are all top and taste great with vegetarian food! Especially I like that they are made without flavor enhancers or preservatives
Jessie Röschlaub from Bischberg
You achieved your goal to provide the best and most tasty BBQ Sauces in my opinion. They are all simply magnificent!
Alfred Reuter from Rattelsdorf:
They are all super tasty and I couldn't decide which one tastes best, so I'll just take them all!
Jörg Herold from Himmelkron
I never ate up a BBQ sauce as quick as yours!
Our Passion
We love good food and prefer to cook everything fresh. We have been making our own Barbecue sauces for years and gradually refined them. We began to distribute these delicacies to our loved ones and their enthusiasm gave birth to the idea that we should not withhold these sauces from others. Corona gave us more free time which we used to realize this vision.
Tastings with friends & acquaintances and corresponding further developments led to the exclusive products that we can now present to you.
We wish you great Barbecue & Pizza experiences with our sauces and above all a good appetite!
Also very tasty to Vegetarian food!